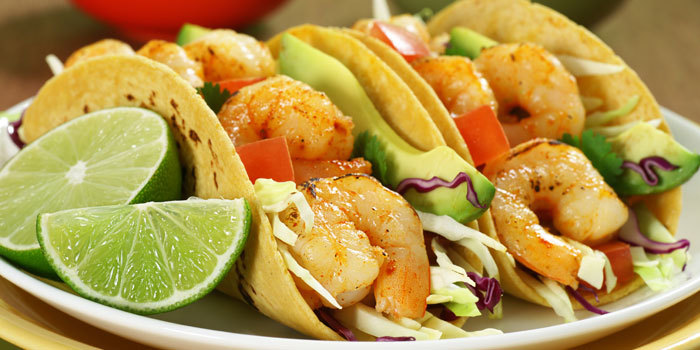 These seasoned shrimp tacos get spice and flavor from cumin and chili powder and are topped with lots of fresh veggies.
Total Time:
18 min.
Prep Time:
15 min.
Cooking Time:
3 min.
Yield:
4 servings, 2 tacos each
Ingredients
:
1½ tsp. olive oil
2 cloves garlic, crushed
¾ tsp. ground cumin, divided use
½ tsp. ground chili powder
1 lb. raw medium shrimp, cleaned, deveined
¼ cup nonfat plain Greek yogurt
1 tsp. finely chopped lime peel
2 Tbsp. fresh lime juice
2 Tbsp. chopped cilantro
8 corn tortillas (or 6-inch whole wheat tortillas), warm
1 cup shredded red and green cabbage
1 medium tomato, chopped
1 medium avocado, sliced
Fresh cilantro sprigs (for garnish; optional)
Fresh lime wedges (for garnish; optional)
Preparation
:
1. Combine oil, garlic, ½ tsp. cumin, chili powder, and shrimp in a medium bowl; mix well. Set aside.
2. Combine yogurt, remaining ¼ tsp. cumin, lime peel, lime juice, and cilantro in a small bowl; mix well. Set aside.
3. Heat medium nonstick skillet over medium-high heat.
4. Add shrimp mixture; cook, stirring frequently, for 2 to 3 minutes, or until shrimp is firm and opaque.
5. Top each tortilla evenly with cabbage, tomato, shrimp, and avocado.
6. Garnish with cilantro and lime if desired; drizzle each taco with a small spoonful of yogurt mixture.